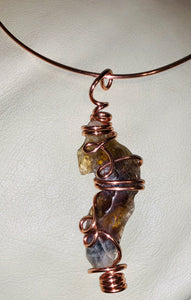 Stunning, uniquely wrapped Super Seven. Not only would this piece be the perfect accessory for just about any occasion, it's properties are also infinite.
 Super Seven is perfectly for those looking to expand their consciousness, clarify their thoughts, grow spiritually, clear and balance all chakras.
 Super Seven is known as the Sacred Stone. It's a rare mineral made naturally made of seven crystals in one. Amethyst, Cacoxenite, Goethite, Lepidocrocite, Rutile, Quartz, and Smoky Quartz together create this sacred crystal loaded with high vibes.
 Super Seven is one of the most sought after crystals of all because of it's infinite spiritual and healing properties.