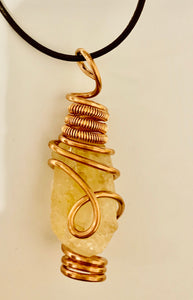 Raw Citrine Wrapped in Copper...
 Perfect for those seeking to unleash their creative gifts & unlock potential abundance. Citrine is also known as these Merchants Stone. It's very protective, excellent for raising the vibrations, assists one in discovering their divine purpose & intentional gifts. 
Uniquely hand wrapped & charged... ready to assist in alignment & clearing of all chakras.