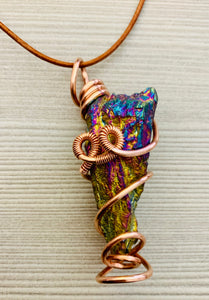 Rainbow Flame Aura Quartz
This crystal has the ability to enhance your aura and activate your Rainbow body. It will also charge the chakras in your body and restore the peace, balance, and harmony.
Don't let this beautifully hand-wrapped treasure to pass you by. You need a Titanium Rainbow Aura Quartz in your life. It will enhance your personal power and will encourage you to use it more often in different life situations so that you will better navigate life.


It's a wonderful crystal to use for healing because the Titanium Quartz's rainbow colors will promote healing on all levels.
It will help ground, balance, and center you. It will give insight, energy, excitement, compassion, and joy.
This gorgeous copper & quartz pendant was uniquely hand-wrapped with the purest intention.
 It comes on a 20" leather cord. You may upgrade to a copper chain or choker for an additional $15.
 This piece as well as all others come with a satisfaction guarantee.